Shop
Information
My account
Description
NEW FOR 2013 - OUR SATURN RD290 RAFTS NOW INCLUDE UPGRADED LEAFIELD C7 VALVES AND OUR WHITEWATER RAFT 1.5MM PVC BOTTOM LAYER COVERING THE FLOOR. THIS IS A TRULY CUSTOMIZED WHITEWATER R2 RAFT AND WE ARE THE ONLY DEALER CARRYING THESE IMPROVEMENTS ON THE RD290 MODEL.
The newest member of rafting fleet was suggested by one of our most experienced guides in West Virginia and was specifically designed to offer an affordable alternative to the overpriced mini-rafts on the market today. It is the perfect raft to affordably introduce you to the sport of rafting. For those looking for a solid raft to R2 with this model absolutely can't be beat. See this great article for more information on what customers are looking for in a raft this size (Canoe & Kayak article).
The lightweight and portable RD290 river raft is great for both fishing and whitewater rafting. The material is extremely thick and can handle all types of abuse. The higher rocker provides an exhilarating ride on whitewater like no other raft! It is an excellent whitewater paddleboat for 4 people or a nifty rowing rig for 1 person and lightweight gear.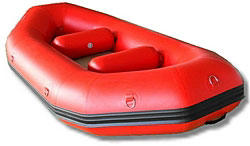 Our inflatable thwarts are removable and provide for great seating options. Our customized pressure-relief valves prevent overinflation in both the tubes and drop-stitch floor. Our new heavy duty floor and extra thick black rub strake protector provide for increased protection against punctures and make for one of the thickest on the market today.
The 9'6" length and 5'3" width is enough to handle big whitewater or sneak through a tight fit in smaller river canyons. It provides one heck of a ride in Class III+ whitewater!

The 9'6" Saturn Whitewater Raft is equally suitable for holding still above a fishing hole, or surfing in your favorite R2 hole. When paddling big whitewater this raft will keep your adrenaline pumping!
Lightweight, fast and easily maneuvered, SATURN rafts outperform bulky and heavy Hypalon rafts. Our designs have allowed for easy maintainance, repair and increased portability.
Here are some additional product features:
Rafts tubes are made of heavy-duty 1,100 Dtex High Strength PVC fabric coated on both side with 1100 g/m2, 0.9mm. For 2013 our floor is designed with the extra thick 1.5 mm material wrapping up to the exterior tube centers.
2013 Upgraded Leafield valves (over $150 value)
140mm drop-stitch high-pressure air floor (pressure rating over 6 psi)
Soft lifting handles in front and rear.
Rubbing strake all around the raft.
1 pressure relief valve in side tube and 1 in air floor.
2 D-rings inside and 10 D-rings outside.
Self bailing holes all around raft bottom perimeter.
Two detachable 10" diameter inflatable thwarts.
Accessories: repair kit and carry bag.
Complimentary generic hand pump included.
Package any of our whitewater rafts with a custom NRS frame or NRS frame package and save.
Features
Raft Specification
9'6"
5'3"
17"
52"
46"
80 lbs
2 + 2 + 1
Air Deck Floor (6psi) with 12 mm dia. bailing holes
4
10
2
2 (Pin System)
Included Standard
52" x 8"
Leafield C7
2 (1 Floor / 1 Tubes)
Not Included
Not Included
Included Standard
2-Year Included